February 2019: West Ham Mini-tournament at London Stadium
BCS were the guests of the West Ham Community Walking Football team, where two mini tournaments were organised featuring over 50s and over 60s teams from both camps.
The first challenge for BCS was transporting 18 BCS team members from East Kent to Stratford. This involved multiple WhatsApp messages, train timetables being scoured to find the 'best' route and a few more traditional car journeys. Despite all of the confusion, everyone arrived on time to find a very impressive set up, proper changing rooms, working floodlights, advertising hoardings, even a noisy crowd of onlookers – BCS had hit the big time! The one slight drawback being the grass pitch, glistening in the East London drizzle. A drawback because Skip Peter Cadogan had categorically advised the team that blades/studs would not be allowed on the Astro Turf!!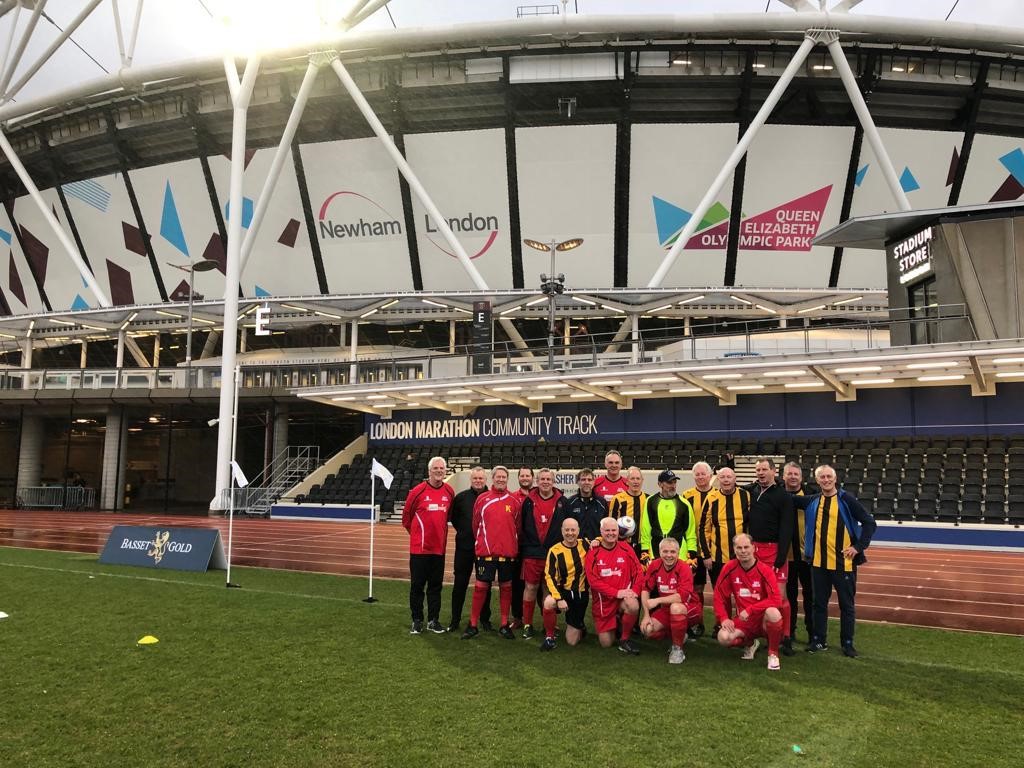 Despite the inappropriate footwear being worn by BCS (even Pete Candy had forsaken his traditional blades) a good and safe time was had by all, with both teams giving a good account of themselves. Match reports are shown below.
Over 50s
BCS vs West Ham Community Team
3 game mini-tournament
Squad: Steve Woodward, Rob Rae, Kevin Joyce, Pete Candy, Ian Syrett, Martin Millbank, Michael Farlam, Nigel Robson, Dean Osborne
Game 1
Score: 1-1
Scorer: OG
As the score suggests, this was a very even game with both teams having numerous attempts on goal. BCS took a while to adjust to the playing surface and it was West Ham that took an early lead from a loose ball on the edge of the box. The BCS goal came from some sloppy play by one of the West Ham defenders who casually back heeled the ball past his own goalie.
Game 2
Score: 2-0
Scorers: Michael, Ian
Another even game with both teams being well matched but with BCS making better use of their subs, taking a 5 minute on/off approach to keep legs fresh. Michael scored the first goal which was taken well from the edge of the box. West Ham argued that the ball was in the area but the ref gave the goal despite their protestations. Ian scored the second goal with a cracking shot from a tight angle and some good saves from Steve kept the score line and 0-2 and saw BCS win the game.
Game 3
Score: 0-0
The last game was the one that BCS dominated the most, with a standout performance from Dean but that winning goal proved to be elusive and the game petered out to a disappointing goalless draw.
BCS Over 50s total points = 5
Over 60s
BCS vs West Ham Community Team
 3 game mini-tournament
Squad: Nigel Brett, Chris Le Corney, Nobby Hamilton, Terry Brown, Jim Dobson, Bruce Gowland, Colin Johnson, Paul Lythe, Peter Cadogan
Game 1
Score: 0-1
BCS dominated this game with more than 10 attempts on goal, all of which seemed to hit the same defender! West Ham had just the one shot and scored. That, as they say, is football! 
Game 2
Score: 2-1
Scorers: Chris (3)
This time BCS made sure that their dominance was converted into goals with Chris LC bagging a hat-trick. Sadly only 2 goals were in the West Ham net, the 3rd being a peach of an own goal! Chris has yet to fully grasp the back-pass rule and goalie Nigel got confused by the commotion and let the illegal back pass from Chris trickle through into his goal. Never mind though, a win's a win! 
Game 3
Score: 3-0
Scorers: Paul (3)
Last game for the Over 60s and BCS ran out easy winners, making their superior fitness levels count. All those Monday evening sessions at BayPoint paid off! All three goals were scored by Paul who must have been wearing new boots! His last was a fantastic Higuaín like turn and a shot rifled in to the back of the net.
BCS Over 60s total points = 6
BCS Over 60s were crowned Tournament winners on account of their two magnificent wins, although BCS Over 50s can be proud of their unbeaten record.
The trophy and individual medals were presented pitch side by West Ham old boy John Moncur at half time during the WHU vs Liverpool match.