10 March 2019: National League South Over 60s (at Romford)
Squad on the Day: Nigel 'Full English' Brett, Jim 'no pies today' Dobson, Steve 'newbie (Gayview)' Earle, Terry 'your're on my manor' Brown, Mick 'you'll start when I'm ready' Sharp, Bruce 'Almighty' Gowland, Colin 'got the memo this time' Johnson, Peter 'Oscar winner' Cadogan.  Steve was making his debut for BCS over 60's and his tournament debut, having only started playing walking football about 4 weeks ago! 
This was the first of BCS's over 60's squad's monthly visits to the metropolis suburb of Romford.  Luckily we had a local guide and interpreter Terry with us! The squad on the day was like the Man Utd squad against PSG – depleted! Out of the 12 squad members only 8 were available with late fitness tests on Jim, Peter & Colin.  It was felt that it was pointless having a fitness test on some of the other squad members!!  With the help of bandages, straps, sprays, and various medical aids, 8 squad players were ready for the fray.
Over the coming months, BCS will be facing the best of the South East in a series of round-robin matches. The results each month will go towards a league table, the top 2 of the league will then match their skills against the top 2 in the northern league, to see who is the best in the country. Today's round-robin was against Romford, Cheshunt and Bexley. The 3 matches were 20 mins in length, with a brief half time and change of ends.
Match 1: Cheshunt 1 v 2 BayCity Strollers (Mick & Peter)
BCS looked resplendent in their blue shirts, matching white shorts (for once) and red socks.  Starting slowly, as always, BCS went behind to Cheshunt!  BCS started to get into their walking stride and after a good save by the Cheshunt keeper, Sharpshooter Mick followed up the rebound to equalise. The second half was dominated by free flowing BCS football.  BCS scored a well-deserved winner when Peter thundered a shot, which eventually crept over the line. 'They all count' he was heard mumbling as he wheeled away in celebration. With 2 mins on the clock, a Cheshunt defender took out Peter and with an Oscar winning dive, he hit the floor rolling several times, Neymar-like. With the opposing players and ref concerned for his welfare, BCS players were seen laughing their heads off.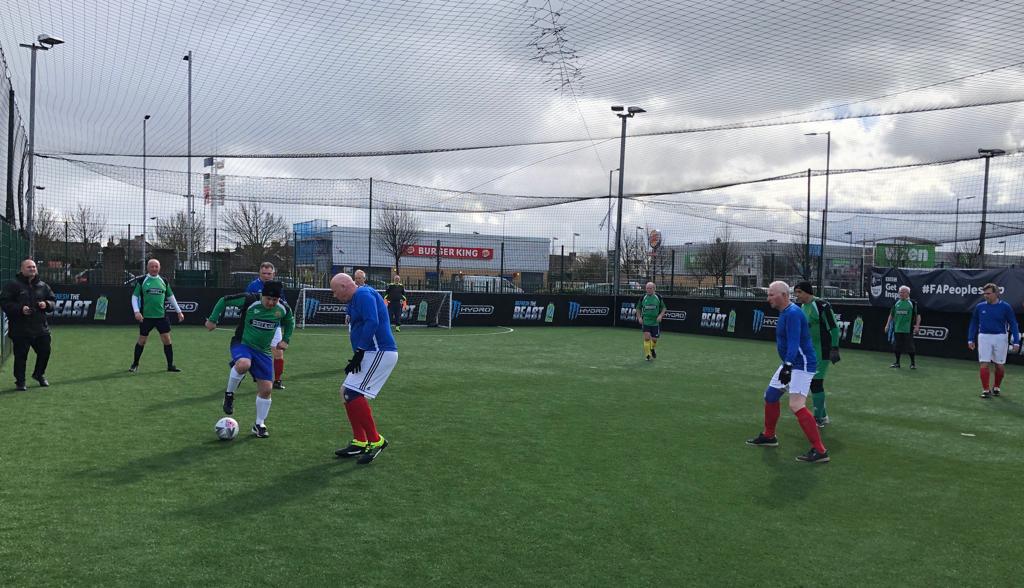 Match 2:  BayCity Strollers 1 v 6 Romford (Mick, Terry OG!)
BCS started how they finished in the last match and took an early lead through Mick. That, I'm afraid, was the highlight of the game.  Romford scored immediately from the kick off!  4-1 down at half time, a bemused BCS had a water break trying to fathom how the hell they were losing 4-1 when Romford had only had 4 shots and BCS had had numerous chances that the Romford keeper had somehow saved.  Time for change with Steve Earle making his debut along with Bruce.  Romford managed another shot on target which took a wild deflection off the tree trunks that are known as Big Terry's legs, keeping up his OG record of scoring in each tournament he has played in!  To add insult to injury, the Romford forward then back heeled the ball through BCS defenders' legs and it trickled into the goal!  Even the ref had to ring up our supreme leader, John, the next day to tell him not to beast the boys as he had absolutely no idea how it ended 6-1.
Match 3:  Bexley 1 v 3 BayCity Strollers (Steve, Peter & Colin)
Still feeling shell shocked at the bewildering score of the last game, BCS took the pitch for their final game of the day.  BCS however, got back into their groove and debutant Steve finished off a very impressive performance with a great goal to put BCS 1 up!  BCS's superior fitness began to tell in the second half and Peter finished off a fine move to extend BCS's lead.  Against the run of play, Bexley pulled a goal back 2-1 and the nerves began to jangle!  The ball was played up to Bruce who shielded the ball in masterly fashion and was eventually rewarded with a free kick.  Bruce was like a coiled cobra: he sprang up, took the free kick, whilst Bexley were arguing about it, and passed the ball confidently across the goalmouth to Colin who was lurking at the far post to slot home. Game over!  All the gruelling hours on the training pitch had paid off!
Considering everything, BCS were highly delighted with 6 points out of 9 points on their debut in the National League.  BCS settled into the bar to celebrate a successful morning's work, oblivious to the carnage being wreaked on the roads by the strong winds, and Terry sitting on his throne with his trendy James May floral shirt, bemoaning how unlucky he was to score yet another own goal. He did have the last laugh as he WhatsApped everyone to tell them he was sitting in a radox bath (don't worry the vision will lessen over the days to come) drinking his third G & T, whilst his poor fellow squad members were testing their bladder squeezing skills to the limit!  The squad will be approaching coach John to add the 'bladder holding-in drill' to his next session!
Bring on our next round-robin on 14th April.
Peter Cadogan