Oct 2020 – July 2021: Over 60's Squad Results to Date
Results so far in over 60's League:
BayCity Strollers 2 (Rob Lynn, Chris Le Corney) Herne Bay 1 (HOME – OCTOBER 2020)
Woodnesborough 0 BayCity Strollers 1 (Chris Le Corney)  (AWAY – 7 MAY 2021)
Canterbury 0 BayCity Strollers 2 (Chris Le Corney 2)  (AWAY, AT AYLESHAM – 13 MAY 2021)
Herne Bay 3 BayCity Strollers 0  (AWAY, AT BAYPOINT – 8 JUNE 2021)
BayCity Strollers 2 (Jim Dobson, Rob Lynn) Woodnesborough 1  (HOME – 20 JUNE 2021)
Ramsgate 1 BayCity Strollers 3 (Rob Lynn, Les Adsett 2)  (AWAY, AT BAYPOINT – 4 JULY 2021)
At the half way stage of the season we are joint top with Ashford who we play next on Sunday 1st August 2021 at home, 11am kick off.  Just one defeat so far against Herne Bay who had all the superstars out (including new signing Glory Hunter Steve Rich!), but two notable victories against Herne Bay and a very strong Woodnesborough team.
Our aim at the start of the season was to try and win the league if we could and thankfully that is still in our own hands with tough games to come against unknown quantity Ashford.  We have welcomed several new players into the squad with Les scoring on his debut with good contributions from Gordon, Tony, Nigel and Paul.
Big thanks to Rob Lynn for all the hard work that goes into organising the matches and keeping us up to date with the league table.
Jim Dobson
BCS Squad v Woodnesborough 20 June 2021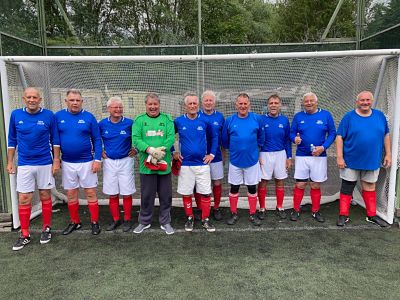 BCS Squad v Ramsgate 4 July 2021